The
National Hotel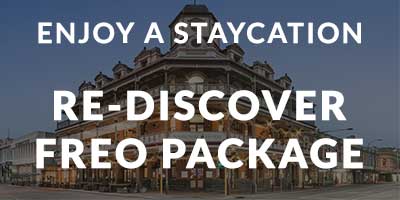 At the heart of Fremantle, boasting a spectacular Rooftop Bar and twelve beautiful, individually styled luxury ensuite hotel rooms with double glazing ensuring you have a peaceful night's sleep.
The beautifully restored, award-winning National Hotel is serving quality food and premium beverages seven days a week. Join us for one of our renowned happy hours or see some of the finest live music Fremantle has to offer, seven nights a week.
For Dine-In bookings:

Rooftop Bar Opening Hours
The Spring weather is too good to miss this week so we are opening from midday on Monday 14th and Tuesday 15th.
Open Wednesday to Sunday from midday
Please note: Opening times are subject to function bookings and weather conditions. We recommend calling the venue before your visit to ensure you are not disappointed when you arrive.